PBA Minister's Council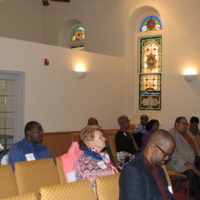 The Philadelphia Baptist Association (PBA) Minister's Council Meeting held its quarterly meeting March 8, 2017 at the PBA office.
"…we, who are many are one body in Christ and individually we are members one of another." Romans 12:5, NRSV
The Workshop facilitator was Rev. Dr. James E. McJunkin, Jr. Executive Minister, Philadelphia Baptist Association. The topic for the day was entitled: "The 310th Year Recommitment to the Baptist Principle of Association."
The devotional period was led by Rev. Robert Solomon, President of the Ministers' Council and prayer by Rev. Clinton Hoggard, of Vine Memorial Baptist Church.
Dr. McJunkin began with this declaration: "The PBA Board of Directors has identified the fact that maintaining our historic sense of being a community of Baptist believers is our primary adaptive challenge, today. (This challenge is caused by) Our rapidly changing environment and the contentious demographic shifts…A sense of belonging to one another is prerequisite to sustaining a common mission in Christ and our historic Baptist witness."
Dr. McJunkin gave us an "historic tour" of the accomplishments of the 310 year old Philadelphia Baptist Association.  Many fond memories were stirred with responses of smiles and nodding heads from those personally impacted by this long standing association.
We were asked to break up into focus groups and were challenged to discuss how we might reshape our Baptist traditions (keeping our core values) to meet the needs of the people God has committed to our care and beyond.
To help us, we were given data presenting current sociological conditions in both Pennsylvania (Executive Summary) and in Philadelphia (Philadelphia: The State of the City, compiled by the PEW Charitable trusts. We were also given questions to provoke thought and discussion and to present meaningful suggestions for future topics.
The responses from the groups were given to President Solomon.  They will become the topics for future Ministers' Council Meetings.
Our meeting ended and we continued our fellowship around a wonderful lunch.